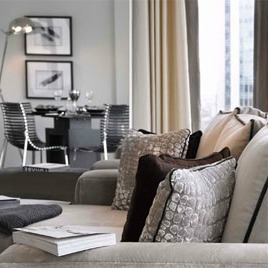 Interior Design from Cairn
As well as Letting, Development, Investment and Selling services, Cairn offers great interior design options! We offer a variety of unique, custom made-to-fit furnishings at a wide range of prices.
Our interior design solutions ensure we can satisfy an array of different demographics, giving our customers the look and feel in their home which best suits and reflects them.
Are you a landlord looking to let your property out to students? If so, we have perfect packages for you. Cairn are able to create a trendy, robust environment which reflects student life, but also acts as a comfortable space for studying.
Our designs give students the best of both worlds, making it easy for our landlords to find tenants to let their properties to.
If the days of studying and sitting exams are over, don't worry, our design team are able to create a look and feel which will suit the life of a professional. We know after a hard day at the office, there's a desire to go home to a modern and relaxing environment.
Our team of design specialists, using their years of experience, will transform your property into one that relaxes and allows you, or your tenant, to escape the hustle and bustle of work life.
You can't pigeonhole everyone though. We're aware our market is made of more than just students and professionals. This is why we also have a bespoke interior design service. Our aim, to give clients the 'wow' factor, and to give them exactly what they want – and a bit more.
Struggling to find those pieces that you think will suit your home and lifestyle? Head to the order now page of our website and have a look at the massive range of furniture we have.
And if you can't wait to try out the gorgeous new furniture you've bought, then don't fret. At Cairn, our award winning service includes next day delivery in Glasgow, Edinburgh, Greater London, Manchester, and Liverpool.
We have hundreds of pieces within our range, ensuring that whether you're buying, or even renting furniture from us, we'll be able to cater to your tastes.
And our delivery service includes all assembly and installation of your new furniture, as well as the removal of all the packaging.
Cairn can create the perfect property for people to call their home, even if it's only for a little while. You'll always remember that flat you used to live in.
While carrying out the transformation of your property, our interiors team will use durable, practical and modern materials, ensuring you get the most for your money.
And our designs are built to last too. The materials we use on these projects will reduce the need for, and cost, of maintenance, while still providing a fresh, vibrant, and modern living space.
You may want a property makeover for your own benefit; or it may be to help attract the perfect tenant. Either way, you can find out more by visiting our website, or asking for a quote. Also, you can call our office on 0141 270 7878.
You can keep up-to-date with all that we're doing, including our promotions, via our Facebook, Twitter, and LinkedIn pages.
https://cairnestateagency.com/wp-content/uploads/2013/09/interior-1.jpg
268
268
craig.8ball
/wp-content/themes/enfold-child/assets/mainlogo.svg
craig.8ball
2013-09-25 14:10:38
2013-09-25 14:10:38
Interior Design from Cairn